Docker Integration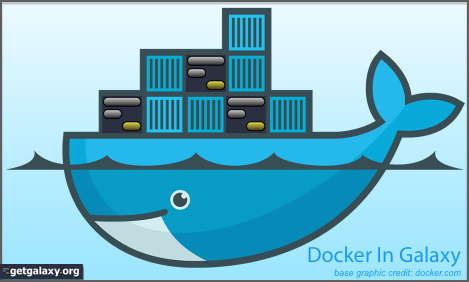 As of the
August 2014 release
, Galaxy supports running tools within
Docker
containers. Tool authors may annotate Docker container ids the tool works with in the Tool XML file and likewise deployers may specify Docker container ids in Galaxy's
job_conf.xml
file on a per destination basis.
Any of Galaxy's built-in job runners may be used to in conjunction with Docker - but the deployer must annotate job destinations with how to run Docker (at very least
<param id="docker_enabled">true</param>
must be added to the destination to enable docker).
Excellent documentation on how to work with Galaxy and Docker was assembled at the Galaxy Community Conference by Aaron Petkau and can be found
on Github
including a full working
example tool and Dockerfile (for SMALT)
which also serves as a Docker tutorial. Likewise, the
Galaxy User Group Grand Ouest
experimented with Docker and Galaxy and documented those efforts
here
.
More implementation details can be found in
Pull Request 401
and a complete description of deployer-centric options can be found in Galaxy's
job_conf.xml.sample_advanced
.