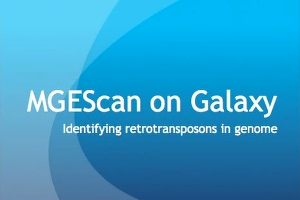 MGEScan
Identifying long terminal repeats (LTR) and non-LTR retroelements in eukaryotic genomic sequences.
This is a Tool Publishing server.
Links
Comments
ENA Browser or local storage is used to obtain input genome sequences including a traditional file upload. HMMER 3.1b1 is applied to gain speed boosts compared to a previous version HMMER 2+. In addition Generic Feature Format Version 3 is used for visualization of genome sequence data via a web-based genome browser e.g. UCSC Genome Browser or Ensembl Genome Browser.
MGESCan is also accessible through Amazon Cloud (EC2), Galaxy Tool Shed or Published Workflow on the public galaxy server (usegalaxy.org)
User Support
Quotas
MGEScan can be used anonymously or with a login. Anyone can create a login.
Citation(s)
Sponsor(s)