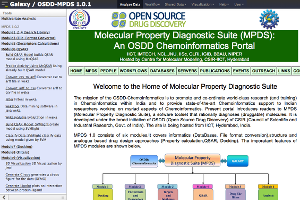 OSDD Molecular Property Diagnostic Suite (MPDS)
A software toolset to rationally diagnose druggable molecules.
This is a Domain specific server.
Links
Comments
"The mission of the OSDD-Chemoinformatics is to promote and co-ordinate world-class research (and training) in Chemoinformatics within India and to provide state-of-the-art Chemoinformatics support to Indian researchers working on myriad aspects of Chemoinformatics. Present portal introduces readers to MPDS (Molecular Property Diagnostic Suite), a software toolset that rationally diagnoses (druggable) molecules. "
"MPDS 1.0 consists of six modules. It covers informatics (DataBases, File format conversion), structure and analogue based drug design approaches (Property calculation, QSAR, Docking)."
User Support
Quotas
Citation(s)
Sponsor(s)