June 25-30, Portland, Oregon, United States
#GCCBOSC
/
Chat
Help get the word out about the joint GCC2018 & BOSC 2018 conference.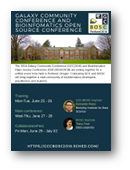 Flyer
Help get the word out by distributing / posting the conference flyer
Conference Graphics
Logo
In Big (6360 x 6360), Medium (800 x 800), and Small (300 x 300) sizes:
Banner
In one size fits all size:

Project Logos
Slides
Giving a presentation? Include a slide or two about the conference.