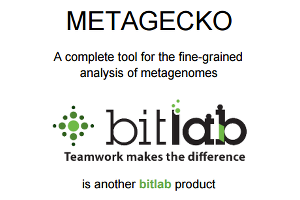 BitLAB
Detailed analysis of metagenomes.
This is a Tool Publishing server.
Links
Comments
From Pérez-Wohlfeil et al.
" ... provides new tools and datafile specifications that facilitate the identification of differences in abundance of reads assigned to taxa (mapping), enables the detection of reads of low-abundance bacteria (producing evidence of their presence), provides new concepts for filtering spurious matches, etc. Innovative visualization ideas for improved display of metagenomic diversity are also proposed to better understand how reads are mapped to taxa."
User Support
Quotas
Must create a login to use it.
Citation(s)
Sponsor(s)