Erasmus MC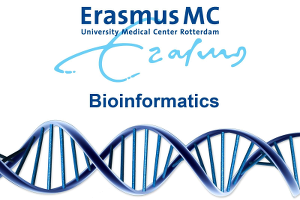 | | |
| --- | --- |
| Public server: | |
| Scope: | |
| Summary: | General purpose genomics analysis, featuring many standard tools plus many additional tools. |
Comments
This server supports a wealth of RNA-Seq tasks, including: quantify gene expression (featureCounts, edgeR, experimental design module) determine and prioritize fusion genes (star-fusion, Fuma, ifuse) determine variants and annotate small variants (BAM to varscan2, Annovar) detect small ncRNA derived RNAs in small RNA-seq alignments (Flaimapper) Generate html user defined workflow (iReport) All tools are also available in the Tool Shed.
User Support
To inquire about this Galaxy server, increasing your disk quotum, or possibilities for collaborative projects, please contact one of our team.
Quotas
This Galaxy instance may be used without registration, but guests' histories are deleted nightly. To request an account, please contact the Bioinformatics department.
Citations
Sponsors