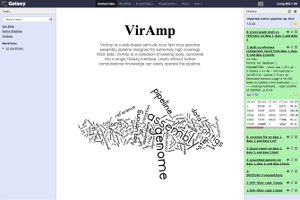 VirAmp
VirAmp is a web-based semi-de novo fast virus genome assembly pipeline designed for extremely high coverage NGS data.
This is a Domain specific server.
Links
Comments
from Wan et al.:
VirAmp "combines existing tools and techniques and presents them to end users via a web-enabled Galaxy interface. Our pipeline allows users to assemble, analyze, and interpret high coverage viral sequencing data with an ease and efficiency that was not possible previously. Our software makes a large number of genome assembly and related tools available to life scientists and automates the currently recommended best practices into a single, easy to use interface. We tested our pipeline with three different datasets from human herpes simplex virus (HSV)."
User Support
Quotas
Citation(s)
Sponsor(s)