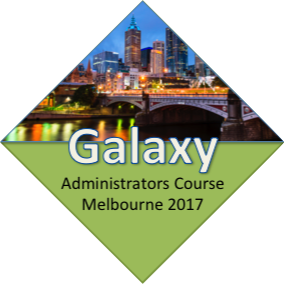 Galaxy Admin Training
at Galaxy Australasia Meeting Meeting
Date: February 6th 2017- February 9th 2017
Contact: Enis Afgan, Nate Coraor, Bjoern Gruening, Simon Gladman, Ross Lazarus,
The Galaxy Administrator Training Course – Melbourne will run for four days, Monday-Thursday, 6-9 February, starting right after the GAMe 2017 Conference. The course will take place at LAB-14, University of Melbourne, 700 Swanston St, Carlton.
Basic through advanced topics will be offered. Sessions will be intensive and hands-on, and taught by experienced instructors from the Genomics Virtual Lab and Galaxy Project teams. Participants will learn how to install, configure, customise, and extend their own Galaxy servers. Topics include tool configuration, authentication and user management, using heterogeneous storage and compute services, and many other topics that will enable you to get your own Galaxy server up and running, performing well, and used by your community.