Feedback on GCC2011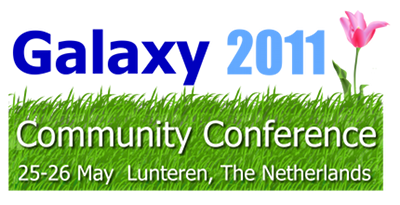 The 2011 Galaxy Community Conference was held 25-26 May, at the Conference Centre De Werelt in Lunteren, The Netherlands.
We received feedback from 73 participants.
Would you recommend future Galaxy meetings to others?**
Answer
#
%
Comments
Yes
72
99%
Yes, but ...
1
1%
The one response was "there was a bit too much info from the field, and not enough from the core development team."
No
0
0
How useful was the meeting?
Weight
Answer
#
%
Comments
4
Exceptional
21
29%
3
Above Average
42
58%
2
Average
9
12%
1
Below Average
1
1%
This might have been a misclick. The same person indicated above average organization and "Exceeded my expectations" for the meeting. No criticism was provided.
0
Not at all
0
0%
Average weighted score: 3.14 out of 4 (just above "Above Average")
Was the meeting well run and organized?
Weight
Answer
#
%
Comments
4
Exceptional
28
38%
3
Above Average
40
55%
2
Average
5
7%
1
Below Average
0
0%
0
Not at all
0
0%
Average weighted score: 3.32 out of 4 (just above "Above Average")
Did the meeting meet your expectations?
Weight
Answer
#
%
Comments
2
Exceeded
38
52%
1
Met
35
48%
0
Fell short
0
0%
Average weighted score: 1.52 out of 2 (halfway between "Met" and "Exceeded")
And a sampling of other comments in the feedback:
I'm looking at setting up a new Galaxy instance for my research organisation and this conference answered all my questions and more about how best to go about this.
Really nice conference, nice people
It was awesome to meet the actual team behind all this and approach them directly with questions.
One big realization was the fact that we're all having the same issues on the biomedical field, it's good to share those insights.
I think the format was perfect. A good series of talks, lighting talks, and some nice discussion in the break out group.
The meeting was well orginized!
Just keeping on doing what you just did!
It was just awesome :) Keep the great work guys !
Thanks for all the good work, both the conference organization and galaxy itself! Keep on.
The organisation was excellent!
Conference was very well organization. Its amazing to see participation from so many organizations.
Fantastic venue, relaxed atmosphere, fantastic organisation and great to interact with the community as a whole.
I also found that the frequent opportunities to interact with other Galaxy users and developers very useful, and which was helped by having everything on the single site.
The relaxed atmosphere encouraged interaction and discussion.
The community aspect was most useful; the chance to talk to the devs and to other people in a similar situation to our institution.
Good sense of community and the desire to help each other out.
And my two favorites:
Graag gedaan!
Avoid volcanic eruptions