[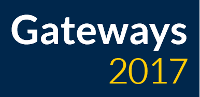 ](https://sciencegateways.org/web/gateways2017)
Gateways 2017 : The 12th Gateway Computing Environments Conference (formerly GCE)
Monday through Wednesday, October 23–25, 2017
Hosted at the University of Michigan, Ann Arbor
Science gateways allow science & engineering communities to access shared data, software, computing services, instruments, educational materials, and other resources specific to their disciplines. They are typically a web portal or a suite of desktop applications.
Gateway developers and users — regardless of their domain area — have a lot in common but have had few venues for exchanging experiences. The expanded Gateways annual conference is an opportunity for gateway creators and enthusiasts to learn, share, connect, and shape the future of gateways.
Early-bird registration is now open through Friday, September 1. (Regular registration closes Thursday, October 12.) Book now for the best rates!
The conference program is already brimming with exciting keynotes, tutorials, and sessions (including a CloudLaunch demo).
Anyone is welcome to participate in the Poster Session. Submit an abstract for your poster by Friday, Sept. 8.
Do you or a colleague offer resources or services that would be of interest to the science gateways community? Consider reserving a space at the Resource Expo.
Questions? Email help@sciencegateways.org