Galaxy Help: A new Q&A site for Galaxy
Got questions? Get answers.
November 29th 2018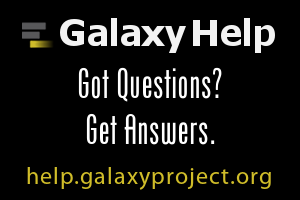 We are pleased to announce Galaxy Help, the new Galaxy Community Q&A web site. Galaxy Help joins the Galaxy Gitter channels, Galaxy mailing lists and the Galaxy Hub as another place to get answers to your Galaxy related questions.
Galaxy Help replaces Galaxy BioStars, which is being retired after almost 5 years of service. (Galaxy BioStars was itself a replacement for the earlier galaxy-user mailing list.) The Galaxy BioStars site will remain up as a read-only archive (and will still be searched by the Galaxy Hub search).