← Back to

news
Research Data Management in Galaxy
How Galaxy manages your (meta)data
Galaxy is well known for its computational capabilities: tools, workflows and infrastructure to run analyses. However, to be able to reproduce and reuse those analyses, a proper data management stategy is needed. And the good news is that Galaxy does it without you noticing!
There are typically seven stages involved in the data life cycle: Plan, Collect, Process, Analyse, Preserve, Share and Reuse. Galaxy is involved in almost all those stages managing your (meta)data. Check out the page on the RDMkit to get links to tools and resources for each one of those stages.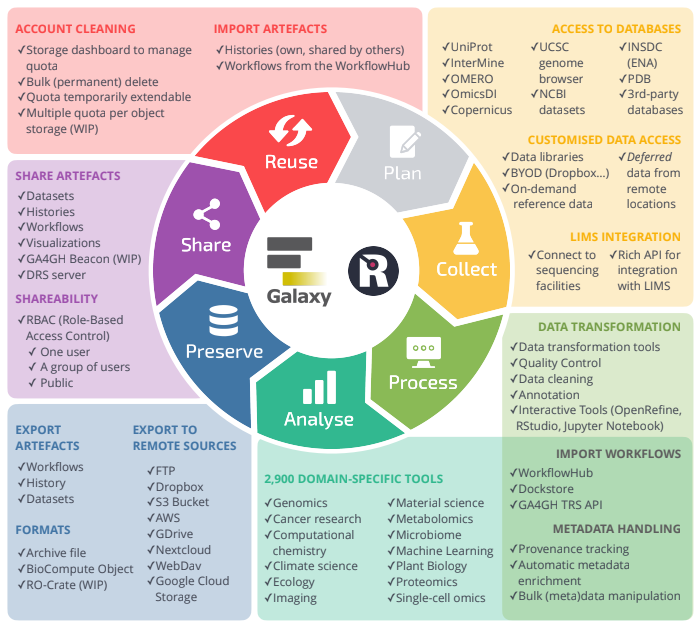 Figure adapted from the RDMkit data life cycle by Amandine Nunes-Jorge and Beatriz Serrano-Solano. For more information, please take a look at this poster presented at ECCB2022.
If you want to know more about how the data is managed in Galaxy, please visit the section Using Galaxy and Managing your Data in the GTN.
Other initiatives, like the ELIXIR Implementation Study 2021 "Strengthen Data Management in Galaxy", are trying to enhance and add more features to Galaxy on the data management aspect. Galaxy is also participating in the ELIXIR-CONVERGE project, more specifically, in the context of SARS-CoV-2 Analysis (WP9) for data access, analysis, capacity building and dissemination.