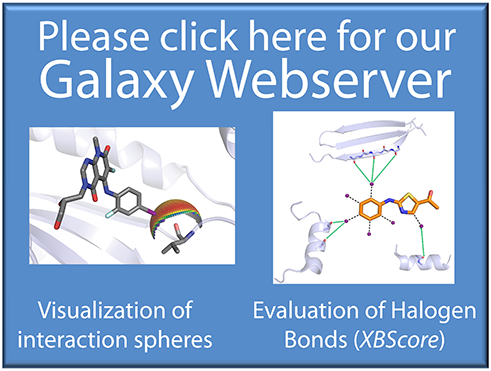 Halogen Bonding
Visualize halogen bond contacts in the protein binding site. Analyze a protein binding site for halogen bonding hotspots. Evaluate halogen contacts with the protein backbone using the scoring function XBScore.
This is a Tool Publishing server.
Links
Comments
Supports visualizations (halogen bond spheres) for:

the protein backbone (spherical scans and planar scans)
methionine
histidine

More visualizations and evaluation tools will be added in the near future.
See

Evaluating the Potential of Halogen Bonding in Molecular Design: Automated Scaffold Decoration Using the New Scoring Function XBScore, Markus O. Zimmermann, Andreas Lange, and Frank M. Boeckler Journal of Chemical Information and Modeling 2015 55 (3), 687-699 DOI:10.1021\ci5007118
Using halogen bonds to address the protein backbone: a systematic evaluation, Rainer Wilcken, Markus O. Zimmermann, Andreas Lange, Stefan Zahn, and Frank M. Boeckler J. Comput. Aided Mol. Des. 2012, 26 (8), 935-945. DOI:10.1007/s10822-012-9592-8
User Support
Quotas
"Files older than 30 days will be deleted, so make sure to save the results to your hard drive."
Citation(s)
Sponsor(s)