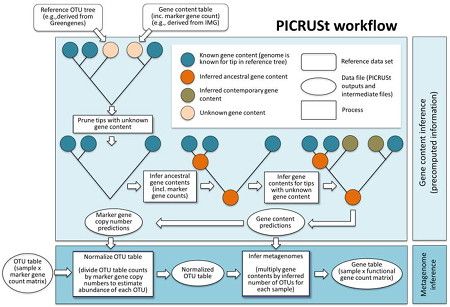 Langille Lab
Prediction of the unobserved character states in a community of organisms from phylogenetic information.
This is a Tool Publishing server.
Links
Comments
PICRUSt is a bioinformatics software package designed to predict metagenome functional content from marker gene (e.g., 16S rRNA) surveys and full genomes.
User Support
Quotas
Anonymous access and account creation are both supported.
Citation(s)
Predictive functional profiling of microbial communities using 16S rRNA marker gene sequences, Morgan G I Langille, Jesse Zaneveld, J Gregory Caporaso, Daniel McDonald, Dan Knights, Joshua A Reyes, Jose C Clemente, Deron E Burkepile, Rebecca L Vega Thurber, Rob Knight, Robert G Beiko & Curtis Huttenhower. Nature Biotechnology 31, 814–821 (2013) doi:10.1038/nbt.2676
Sponsor(s)