GeneLab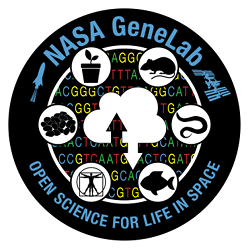 | | |
| --- | --- |
| Public server: | |
| Scope: | |
| Summary: | NASA GeneLab is a comprehensive space-related omics database in which users can upload, download, share, store, and analyze spaceflight and corresponding model organism data. |
Comments
Bioinformatics software platform (powered by Galaxy), including tools for performing sequence data processing, and differential gene expression and epigenetic analyses.
User Support
Quotas
Must create an account to use the server. Anyone can create an account, but you will need a Google ID to create one.
Citations
FAIRness and Usability for Open-Access Omics Data Systems, Daniel C. Berrios, Afshin Beheshti, Sylvain V. Costes. AMIA 2018 Annual Symposium; 3-7 Nov. 2018
Exploring the Effects of Spaceflight on Mouse Physiology using the Open Access NASA GeneLab Platform, Afshin Beheshti, Yasaman Shirazi-Fard, Sungshin Choi, Daniel Berrios, Samrawit G. Gebre, Jonathan M. Galazka, Sylvain V. Costes. Journal of Visual Experiments, (143), e58447, doi:10.3791/58447 (2019).
Sponsors