MaREA4Galaxy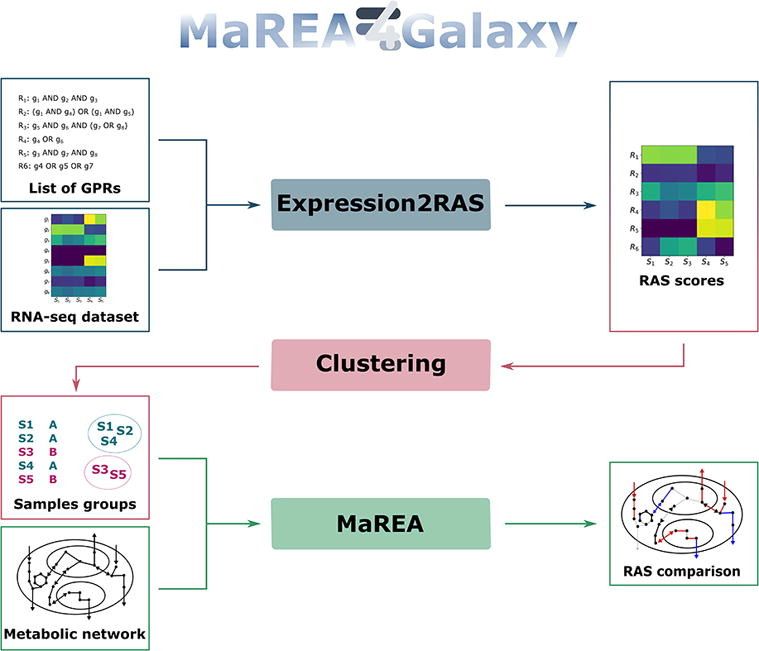 | | |
| --- | --- |
| Public server: | |
| Scope: | |
| Summary: | Metabolic Reaction Enrichment Analysis and visualization of RNA-seq data |
Comments
Compute Reaction Activity Scores from gene expression (RNA-seq) dataset(s).
analyze and visualize differences in the Reaction Activity Scores (RASs) of groups of samples, as computed by the Expression2RAS tool, of groups of samples.
Cluster analysis of any dataset, according to most used algorithms: K-means, agglomerative clustering and DBSCAN (Density Based Spatial Clustering of Applications with Noise).
User Support
Quotas
Can be used anonymously, or you can create and account.
Citations
Damiani, C., Rovida, L., Maspero, D., Sala, I., Rosato, L., Di Filippo, M., Pescini, D., Graudenzi, A., Antoniotti, M., & Mauri, G. (2020). MaREA4Galaxy: Metabolic reaction enrichment analysis and visualization of RNA-seq data within Galaxy. Computational and Structural Biotechnology Journal, 18, 993–999. https://doi.org/10.1016/j.csbj.2020.04.008
Graudenzi, A., Maspero, D., Di Filippo, M., Gnugnoli, M., Isella, C., Mauri, G., ... & Damiani, C. (2018). Integration of transcriptomic data and metabolic networks in cancer samples reveals highly significant prognostic power. Journal of biomedical informatics, 87, 37-49. https://doi.org/10.1016/j.jbi.2018.09.010
Sponsors
Universitá degli Studi di Milano-Bicocca, Milan, Italy