Oqtans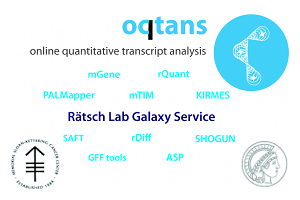 | | |
| --- | --- |
| Public server: | |
| Commercial Cloud: | |
| Scope: | |
| Summary: | Customized Galaxy, extended with machine learning based tools for sequence and tiling array data analysis. |
Comments
The Oqtans tool suite is available as:
as a git repository
most of these tools are moreover available from the Galaxy Toolshed
a preconfigured Amazon Machine Image (AMI, ami-65376a0c) and share string (cm-ba5c56b95144e564f70e5762dc5fa177/shared/2013-11-07--22-16/) to launch Galaxy CloudMan using sharing instance functionality.
Oqtans capabilities are shown with Galaxy Pages for which all data, parameters, intermediate output, and final results are made public.

User Support
For problems with any of the non-standard tools, please contact the [MLB Galaxy Support Team](mailto:galaxy AT raetschlab DOT org).
Quotas
Citations
Sponsors