← Platform Directory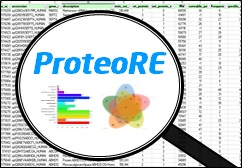 comments
"ProteoRE (Proteomics Research Environment) aims at centrally providing the proteomics community with an online research service enabling biologists/clinicians without programming expertise to annotate and interpret their proteomics data through the Web."

ProteoRE currently comprises tools (including graphical display) for:
Customary data manipulation (e.g. filtering, lists comparison, ID conversion…)
Protein list annotation (e.g. information retrieval from public resources - human species)
Functional analysis (e.g. GOterms frequencies, enrichment analysis) including graphical representation.
Pathway analysis (e.g. Reactome)
This version also includes Galaxy generic tools and some tools from the GalaxyP project that should be of great help for people who want to (re)process their MS-based proteomics data (e.g. peptide/protein identification).
user support
quotas
Unregistered user: allocated storage space is limited to 20 Mb and is not conserved between sessions.

Registered user: up to 20 Gb per registered user
citations
sponsors