# Get Galaxy

Please note new upgrade syntax




# Release Process

If you need a refresher about how to update or this is your first update in a while, please review the instructions at Get Galaxy. Even more details are in the prior News Brief.


# Python 2.5 Support Has Ended

As of this release, Galaxy no longer supports Python 2.5. More in the ticket: http://trello.com/c/OQT8Iun8


## Required metadata reset for installed tool shed repositories
It is critical that you reset the metadata on your installed tool shed repositories when you upgrade your Galaxy instance to this revision!

When a tool shed repository is installed into your local Galaxy instance, metadata is generated for the repository as a part of the installation process and stored in the tool_shed_repository.metadatatable column in the Galaxy database. This automatic process inspects the contents of the specific revision of the installed repository and generates and stores important information about it. This metadata information is used by certain Galaxy features. As new features are added to Galaxy or the tool shed, the process that generates this installed tool shed repository metadata within the Galaxy instance may be enhanced to accommodate information about the new features. Read more…


# Tool Shed
New Tool Shed Features
Resetting metadata on your repositories

There may be occasions when the entire changelog should be inspected and all of the metadata reset on it. You can reset all metadata on a repository that you are authorized to change by selecting the Reset all repository metadata option from the Repository Actions menu. Sometimes it may be necessary to reset metadata on multiple repositories. For example, if metadata is changed for a repository that is a dependency of another repository, it may be necessary to reset all metadata on each of the repositories in the dependency chain. Read more…
Tool Shed feature enhancements
Miscellaneous Tool Shed fixes and enhancements
Enhance the Repositories that contain tools with invalid functional tests grid to allow for sorting by repository owner. Enhance several of the repository review grids to enable sorting by repository owner.
Clean up the main repositories by category grid and add a tools verified column.
Raise exceptions when tool dependency definition <install> and <set_environment> tags define an unsupported version attribute.
Add more granular lists of writable repositories for the current user: repositories with missing tool test components, repositories with failing tool tests and repositories with no failing tool tests.
Move the My invalid tools menu item in the tool shed to a grid that filters to the latest metadata revision.
The "Repository Actions" menu has been standardized so that the menu is virtually the same on all pages.
Attempt to standardize the main page title for repository pages in the tool shed by displaying the repository name.
Enable dynamic configuration of message box content and visibility in the wsgi .ini file. Display the configured brand, if any, in the
For tool dependencies whose installation ended in an error, still display them when attempting to uninstall them.
Enhancements for the tool shed repository View changeset page: display the commit message, display both the ctx rev and the changeset hash in the title bar, and add Previous changeset and Next changeset buttons to allow for easier scrolling through the repository changelog.
Fix for reinstalling an uninstalled repository when leaving the no changes checkbox checked and entering text into the new tool panel section field.
Keep all contents (including comments) of dependency definition files when re-writing them to include missing toolshed and changeset_revision attributes.
Eliminate the use of Galaxy's elementree egg within the tool shed.
Accepted Tool Shed pull requests

Support for Toolsheds with external auth enabled, pull request #155. Thanks to Roy Storey.
Tool Shed Tickets
# Tools

# Scatterplot
Enhancements to handlers, display, and data input parsing. https://trello.com/c/5jk3k7Td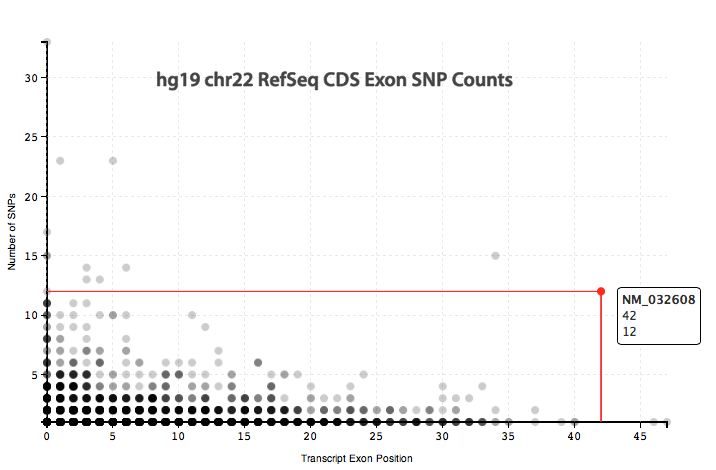 # Trackster

# Histories & Datasets
Delete Hidden Datasets menu option. https://trello.com/c/0SoREcMn
When copying datasets to the current history always refresh history. https://trello.com/c/jY5HSdu1

# Libraries
Library API problem in galaxy-central default but not stable. https://trello.com/c/TbWP1tad

# UI

# Admin

# Core
Unify Web/API Transactions. https://trello.com/c/c5wZPVGd
Eliminate PasteScript startup. https://trello.com/c/Q4bJNZuo
Upgraded SQLAlchemy. https://trello.com/c[/Q6kBeBy](/archive/dev-news-briefs/2013-06-03/Q6kBeBy/)D
Error Logging with Sentry. https://trello.com/c/Yc1LXXTR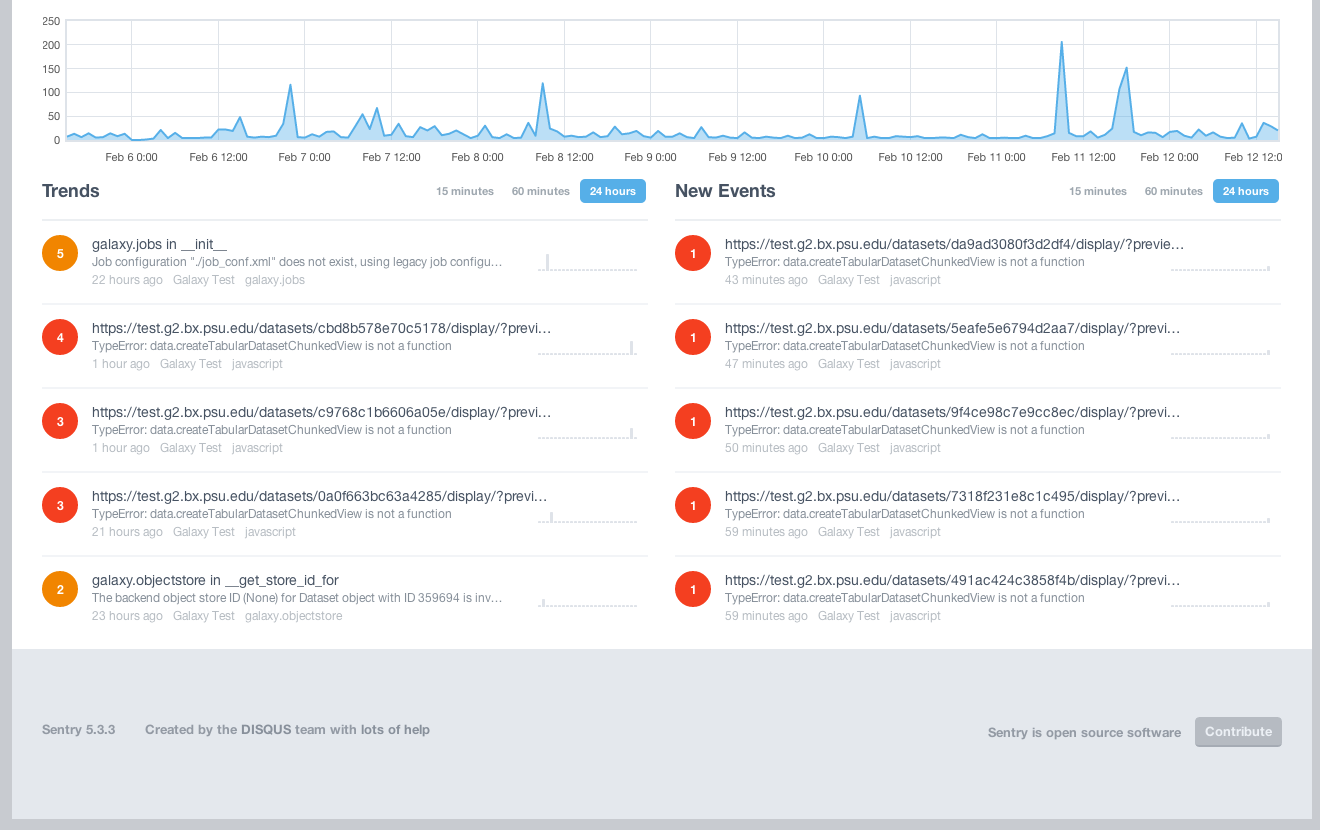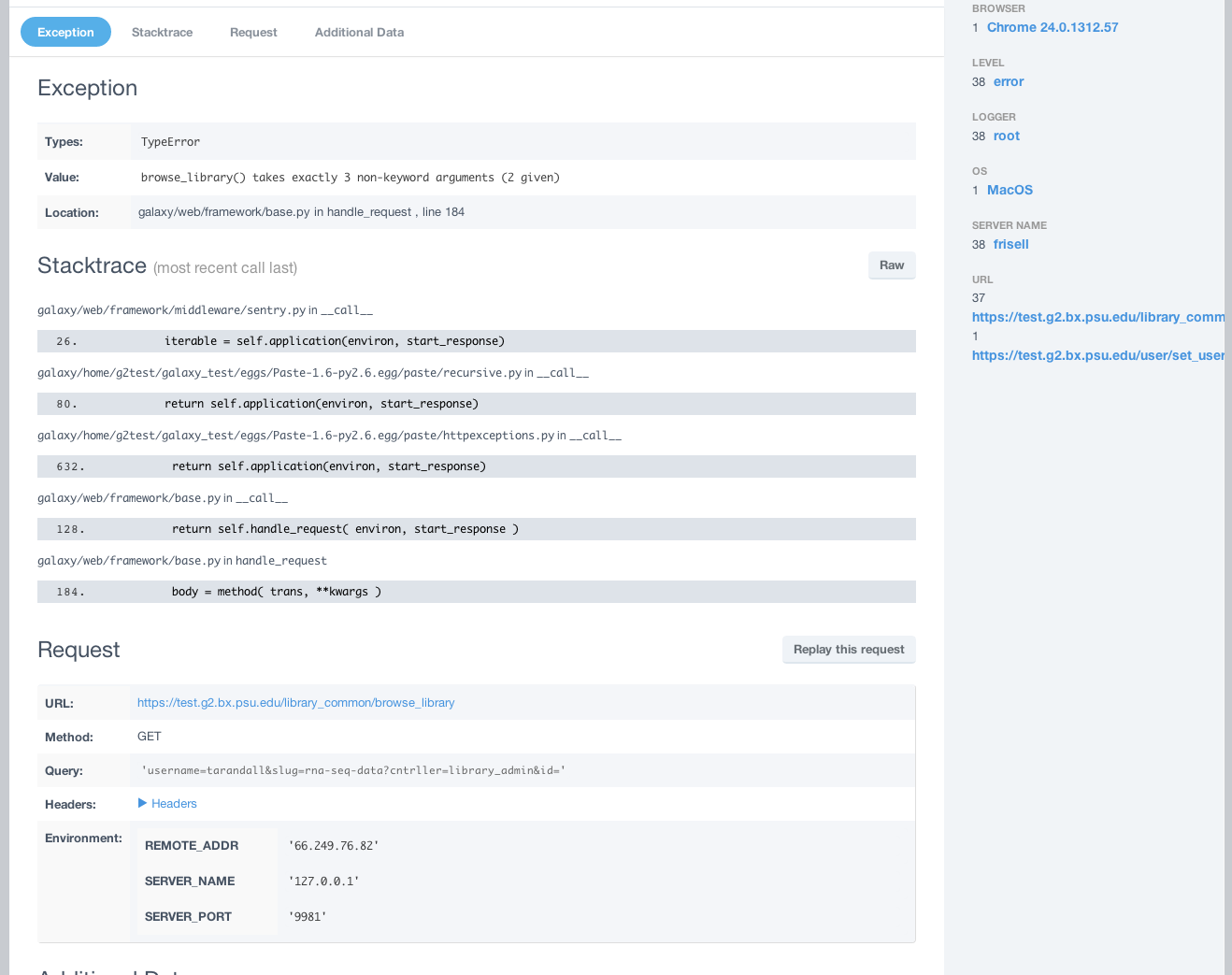 # Pull Requests Merged

# Security Fixes

Although there are no specific known security fixes in this distribution, all Galaxy instance maintainers are strongly encouraged to run the latest release to take advantage of other improvements and fixes.


# Bug Fixes

# Project Updates

# GCC2013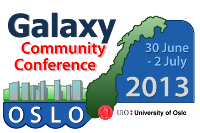 ----
# About

The Galaxy Team is a part of BX at Penn State, and the Biology and Mathematics and Computer Science departments at Emory University.

Galaxy is supported in part by NSF, NHGRI, the Huck Institutes of the Life Sciences, and The Institute for CyberScience at Penn State, and Emory University.

Join us at Twitter @galaxyproject or just read our tweets [Galaxy on Twitter](http://wiki.galaxyproject.org/Galaxy on Twitter)

Have a suggestion? Please see Using the Galaxy Issue Board.