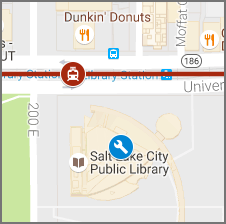 [Event map](https://drive.google.com/open?id=1vC6J8BdrMDQo_cIJvTr9pjUGGcA&usp=sharing)
Lodging, Salt Lake City International Airport, and all training events are on the University of Utah campus or in downtown Salt Lake City, and all are easily accessible using TRAX, Salt Lake's light rail network.
Lodging
University Guest House

Official conference lodging will be the University Guest House on the University of Utah Campus. However, the block of rooms reserved for the event was released on October 6. You may still be able to book a room there, but it appears that some nights (Thursday and Friday) are already sold out. All rooms include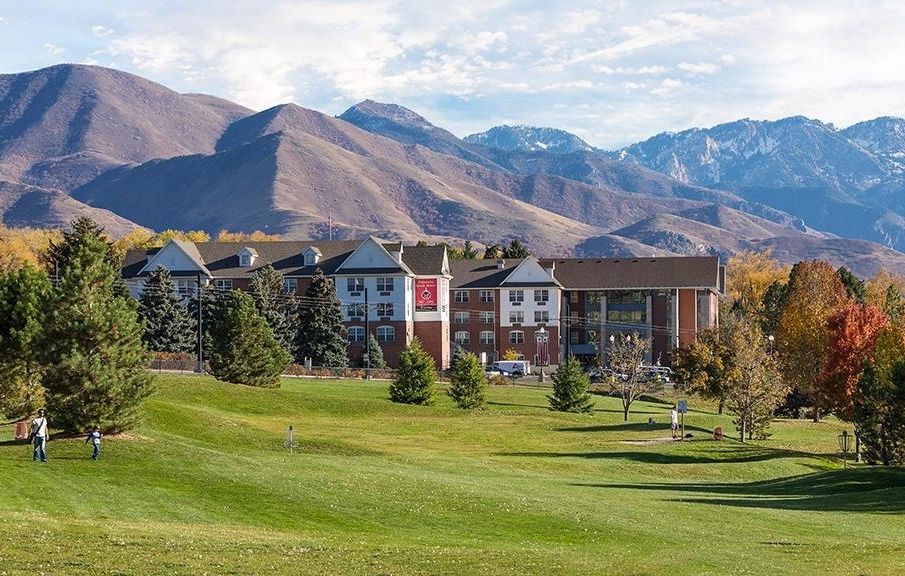 One king bed
Flat screen TV with satellite service
Small refrigerator, microwave, and Keurig coffee maker
Complimentary wireless internet
And a full hot breakfast
University Guest House is on the UTA Trax Red Line, with easy access to Salt Lake City airport and the Salt Lake City Library, the location of the Introduction workshop.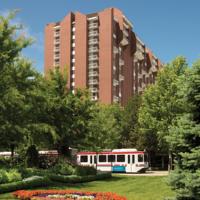 Little America Hotel

Another comparably priced option that is close to the Salt Lake City Library, and also on the Red Line, is the Little America Hotel. As of mid-October his hotel averages $123 / night (including taxes & Fees) when booked either directly through the hotel, Hotels.com or Booking.com.
Transportation

Getting to Salt Lake is easy, thanks to it's major airport, and getting around Salt Lake is also easy, thanks to UTA TRAX.
Salt Lake City International Airport

Salt Lake City International Airport is served by 9 major airlines and has direct flights to over 80 domestic and eleven international destinations. It is also a hub for Delta Airlines.
TRAX

TRAX is Salt Lake's light rail network, and depending upon your arrival time, it can be all the transport you need during your stay. Current rates are:
$2.50, one way
$5.00, round trip
$6.25, day pass
UTA publishes real time data about train and bus locations and this information is available in a plethora of apps for your mobile device.
Travel from Airport to Hotel

Salt Lake Airport is served by the UTA TRAX Green Line, which leaves the airport every 15 minutes on weekdays and every 20 minutes on weekends.

The Green Line operates at the airport during these hours:
5:42 a.m. to 11:27 p.m. Monday - Friday
6:36 a.m. to 11:16 p.m. Saturday
6:20 a.m. to 10:20 p.m. Sunday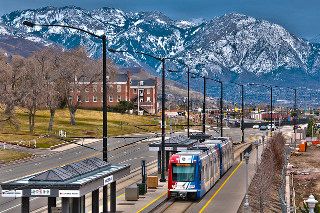 Fort Douglas Station
To get to the conference hotel from the airport
Catch the Green Line at the airport
Transfer to the Red Line (Northbound, towards Medical Center) at Courthouse Station
Get off the Red Line at Fort Douglas Station
Cross Mario Capecchi Drive, by taking the George S. Eccles 2002 Legacy Bridge (you'll see it)
Continue forward to Fort Douglas Blvd, and turn left
In 100 yards, the University Guest House will be on your left.
See the event map for details.
Shuttles, Taxis, Uber and Lyft

Shuttles, taxis, Uber and Lyft are all available from the Salt Lake airport as well. Taxis, Uber, and Lyft are also available for side trips around the area (and the area has a lot to offer).
Training Venues

The Basics Session will be held at the Salt Lake City Main Public Library. This stunning venue is located in downtown Salt Lake City at 210 East 400 South, and is a stop on the UTA TRAX Red Line and just 5 stops from conference housing. We'll be meeting in Conference Room 4

The Advanced Session will be held at the Commanders House on the University of Utah campus. This is a short walk from the University Guest House, where participants are staying.

We would like to thank the USTAR Center for Genetic Discovery (UCGD) for a grant to book this great venue for the advanced workshop.
Questions? Contact [Galaxy Outreach](mailto:outreach@galaxyproject.org)