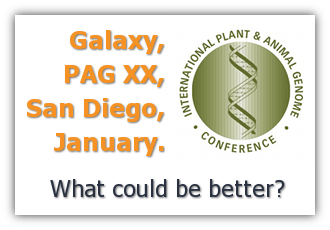 Galaxy had a strong presence at Plant and Animal Genome XX (PAG 2012), January 14-18 in San Diego, California:
There is also a full slate of [GMOD related content](http://gmod.org/wiki/PAG 2012) as well.
Flier

Going to PAG? Print out a copy of the [Galaxy @ PAG 2012 flier](https://depot.galaxyproject.org/hub/attachments/events/pag2012/GalaxyAtPAG2012Flier.pdf). Want to help get the word out about Galaxy? Take several copies with you.