Complete News Brief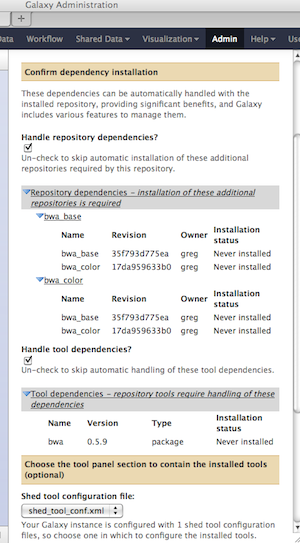 **Highlights:**
Improvements to our release process. Release tag must be used in the hg update command to upgrade. More at usegalaxy.org.
Tool Shed Complex repository dependencies are introduced, streamlining core dependency use across individual tools.
Also updated in the Tool Shed: multiple repository installation, dependency installation (when defined - see graphic on right for an example), and many usability enhancements and fixes.
New Bedgraph-to-bigwig tool plus Filter tool updated.
Workflows now include option to export an image and the core Framework now allows more unified reference genome usage and access.
Ten Community Pull-Requests incorporated, plus another contribution to the tool Shed, addressing general usability, API, tools, error handling, workflows, and more. Thanks!!
Review highlights from the latest monthly Galaxy Update newsletter and Galaxy Project Stats!
Plus bug fixes and related enhancements for visualizations, histories, workflows, and tools.
http://bitbucket.org/galaxy/galaxy-dist
http://galaxy-dist.readthedocs.org
new:     $ hg clone https://bitbucket.org/galaxy/galaxy-dist#stable galaxy-dist

upgrade: $ hg pull 
         $ hg update release_2013.02.08

To receive email updates about Galaxy Distributions and News Briefs, be sure to subscribe to the Galaxy-Announce mailing list, a low-volume list dedicated to News Items and priority messages from the Galaxy community and project core team.
Thanks for using Galaxy,