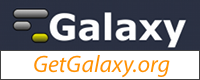 Complete Release Notes

Highlights
Starting with this distribution, an updated Galaxy release versioning system has been implemented. The versioning scheme is Ubuntu-style.
Galaxy development has moved to Github, but stable/release changes are mirrored to Bitbucket. Deployers can continue to use Bitbucket as they have done in the past. Release branches discussed in the full release notes.
Much of Galaxy's core tool set has been redesigned. Several contain new functionality. These tools are included in the Tool Shed and many are ready for use on Galaxy Main.
Get the Galaxy Release



Thanks for using Galaxy!
The Galaxy Team