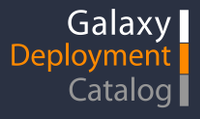 We are pleased to announce the Galaxy Deployment Catalog, a place to describe individual Galaxy deployments, and to learn how others in the community are implementing Galaxy in production environments.
If you have a Galaxy deployment then please take a few minutes to describe your instance to the community.
Thanks a bunch, and please let us know if you have any questions.
2020-12-04 Update: The Deployment catalog is no longer available.