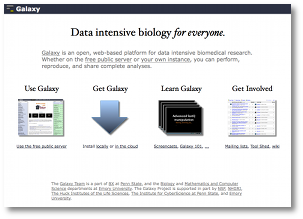 After a long quiescence, the GalaxyProject.org site has been updated to more accurately reflect the state of the Galaxy project, which is vibrant, collaborative, and growing by leaps and bounds, in case you were wondering. GalaxyProject.org is a one stop shop for all things Galaxy, no matter if you want to use the free public server, install your own copy either locally or on the cloud, want to learn how to use Galaxy, or perhaps become an active participant in the Galaxy community.
The other well-known Galaxy URLs will continue to be used as well:
Please continue to use these wherever appropriate.
Thanks,