← Back to

events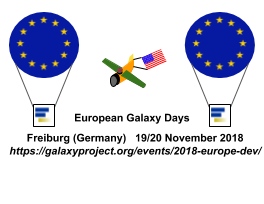 European Galaxy Days
November 19 - 20, 2018
Freiburg, Germany

Hans-Rudolf Hotz, Björn Grüning, Jean-François Dufayard
European Galaxy Days will be held 19 and 20 November 2018 in Freiburg, Germany. This two day gathering will be similar to the events we held in 2016, 2014, and 2012. The first day will give an overview of the current state of the Galaxy framework with several talks and demonstrations. The second day will focus on developing and extending the Galaxy ecosystem.
Latest News

20-Nov: We will meet at 19 in Bertholdsbrunnen

19-Nov: We have reserved a few tables at the Mehlwaage at 19:00. Its in the city, nearby Martinstor, here is the GoogleMap link.

18-Nov: We are in the Martinsbraeu Kaiser-Joseph-Straße 237

12-Nov: If you travel on Sunday (November 18th) to Freiburg, and want to meet up in the late afternoon: We meet in the middle of the old town, in front of the cathedral ("Freiburger Muenster"), near the fountain ([Georgsbrunnen](https://de.wikipedia.org/wiki/Georgsbrunnen\_(Freiburg_im_Breisgau )) at 5PM. The place where we will have dinner (and/or beer) will be posted here and on gitter.
Dinner, November 20th, 19:00

We will meet at 19 in Bertholdsbrunnen
Monday, November 19th
Tuesday, November 20th
Registration

There will be no conference fee. Though, you need to cover for your food and accomodation (we are currently looking for sponsors to cover the lunches on the two days)
Venue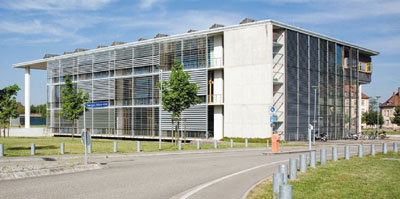 Albert-Ludwigs-University Freiburg
Institute for Informatics
Georges-Köhler-Allee 101
2nd floor, room 2.16-18
79110 Freiburg
Germany
How to get to the campus of the Technische Fakultät

From Basel/Mulhouse/Freiburg airport (EuroAirport)

From Freiburg Hauptbahnhof
Suggested Accommodations

Note: In Freiburg you have to pay an additional accommodation tax. For business trips this tax does not have to be paid if your employer fills out the form available at this page and you show this form to the hotel.
Questions?

Contact Hans-Rudolf Hotz (hrh@fmi.ch) or Björn Grüning (gruening@informatik.uni-freiburg.de) or Jean-François Dufayard (jean-francois.dufayard@cirad.fr)