November 2012 Galaxy Update
Welcome to the November 2012 edition of Galaxy Update, a monthly summary of what is going on in the Galaxy community. Galaxy Updates complement the Galaxy Development News Briefs which accompany new Galaxy releases and focus on Galaxy code updates.
New Papers

These papers may be of interest to the Galaxy community:

These papers were among 44 papers added to the Galaxy CiteULike group since the last Galaxy Update.

And, there are now 500 papers in the Galaxy CiteULike Group.



New Trello Issue Board

The Galaxy project has a new issue tracking system, implemented with Trello. To report an issue, fill out the form at *http://galaxyproject.org/trello''' and submit (use markdown for formatting, if desired). You can also ''comment on and vote for issues directly on the Trello issue board itself.

The same guidelines for creating issues used previously apply here as well - report software issues and change requests, but get support and ask questions on the mailing list.

All open galaxy-central bitbucket issues were imported and, though they still need to be sorted out, comments/voting on them are more than welcome. Our hope is that this issue tracker will be a more effective community interface than the Bitbucket issues were, with the voting features and simpler visibility.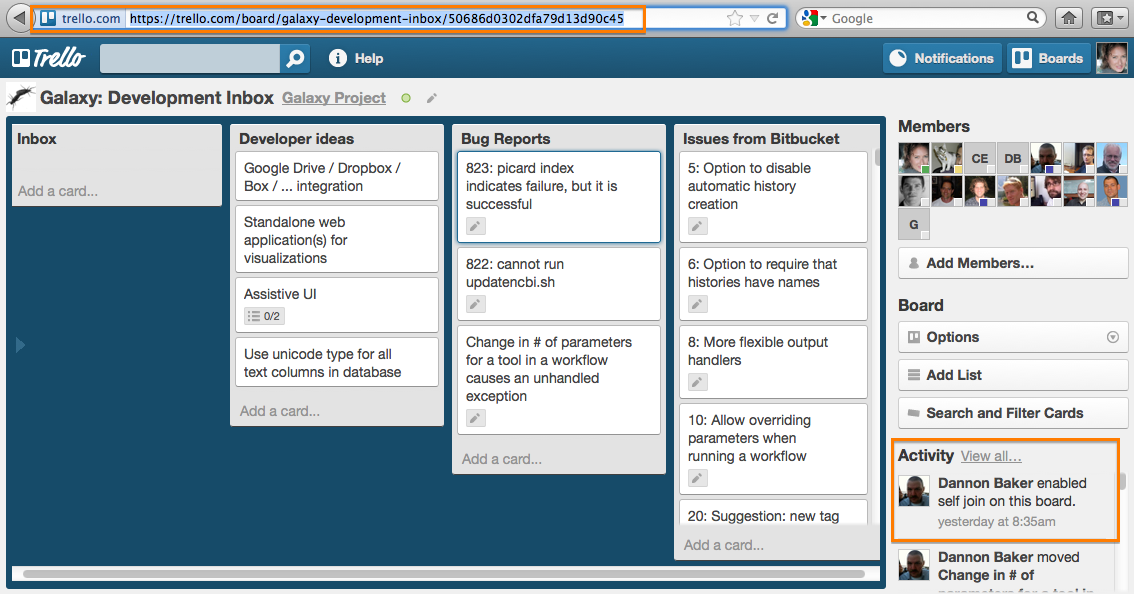 Who's Hiring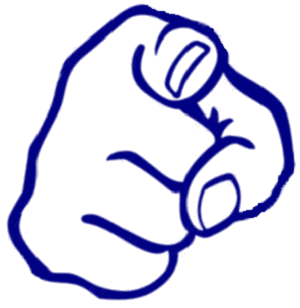 The Galaxy is expanding! Please help it grow.

Got a Galaxy-related opening? Send it to outreach@galaxyproject.org and we'll put it in the Galaxy News feed and include it in next month's update.
Upcoming Events and Deadlines
Deadlines

There are November application, poster, and paper deadlines for
ICG & Bio-IT APAC 2012 abstract and poster deadlines (Oct 31 and Nov 15)
Next Generation Sequencing Workshop application deadline (U Adelaide, Nov 2)
Rocky 2012 early registration deadline (Nov 8)
ISCB-Asai/SCCG 2012 early registration deadline (Nov 12)
November conferences include ASHG 2012 (with 2 Galaxy workshops), Personal Genomes @ CSHL, NETTAB 2012, and ICG & Bio-IT APAC 2012. Course and workshops include The Genome Access Course at CSHL (includes Galaxy), NGS workshops at Queensland and Adelaide, and Generation and Analysis of NGS data workshop @ Ghent.
See the Galaxy Events Google Calendar for details on these and other events.
Events
Date
Topic/Event
Venue/Location
Contact
October 28 - November 2
Genomic Virtual Laboratory Workshop
eResearch Australasia, Sydney, Australia
Enis Afgan
November 6-10
Galaxy 101: Data Integration, Analysis and Sharing

Sold out

American Society of Human Genetics (ASHG), San Francisco, California, United States
Jennifer Jackson, Jeremy Goecks
Working with High-Throughput Data and Data Visualization

Sold out

November 12-14
The Genome Access Course
Cold Spring Harbor Laboratory, New York, United States
Assaf Gordon
November 13-15
Analyse des données RNA-seq et ChIP-seq (séquençage haut-débit), à l'aide d'outils orientés vers un public de biologistes
PRABI (Pôle Rhône-Alpes de Bioinformatique), Doua de l'Université Claude Bernard - Lyon, Lyon, France
Guy Perrière
November 28 - December 4
Computaional & Comparative Genomics Course

This was rescheduled due to hurricane Sandy

Cold Spring Harbor Laboratory, New York, United States
William Pearson, James Taylor
January 12-16
Plant and Animal Genome (PAG 2013)
San Diego, California, United States
Dave Clements
January 28 - February 1
Phylotastic Hackathon
Tucson, Arizona, United States
Arlin Stoltzfus
June 30 - July 2
2013 Galaxy Community Conference (GCC2013)
University of Oslo, Oslo, Norway
Galaxy Outreach
Tool Shed Contributions

Several new repositories were added to the Galaxy Tool Shed in September.
cloudmap_variant_discovery_mapping: Map a mutation using in silico bulk segregant linkage analysis using variants that are already present in the mutant strain of interest.
riboPicker: Easy identification and removal of rRNA-like sequences
picard: Wrappers for the Picard SAM/BAM manipulation tools.
nebula: Tools suite for ChIP-seq data analysis tools from the Nebula Galaxy server.
sparql_galaxy: Execute an SPARQL query against an OWL ontology
cluster3: A Wrapper for the Cluster3.0 program, which implements "the most commonly used clustering methods for gene expression data analysis."
New Distributions

The October 23, 2012 distribution includes an important security fix; integration with a new Trello Issue Board; Tool Shed direct updates; API fixes, tuneups, and brand-new methods to control libraries; multiple Admin changes enable better access to user data to solve problems; and updates to the Visualization tool set cover Trackster, Circster, and the new Scatter Plot tool.

The October 5, 2012 distribution included migrating BWA to the Galaxy Main Tool Shed, accessible tool versions in the UI, and new exit code features enable clearer experimental tracking and ease reproducibility. This release also includes Visualization updates, a new admin tool for PostgreSQL dataset cleanup, and improvements in API, Workflow, and Security components.
Other News