← Platform Directory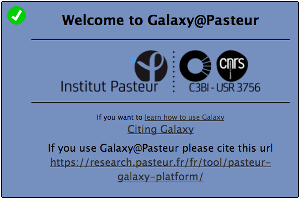 comments
Provides a wide range of tools to the scientific community, including tools that have been created at the Institut Pasteur i.e. TXSScan, alienTrimmer, PhageTerm, SARTools Deseq2 ...

This server is also the workflow execution and analysis engine for the NGPhylogeny.fr, ARIAweb, and SHAMAN servers. None of them looks like Galaxy, but they use the Galaxy@Pasteur server for data analysis and workflow execution.
user support
quotas
Anonymous access is supported with a reduced quota; anyone can create an account.
citations
sponsors