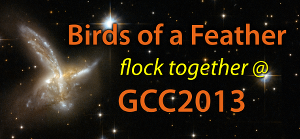 This page describes the Galaxy Clinical Use Survey / Filesystems and HPCBirds of a Feather meetup being held at GCC2013.
The need for a process-level source and version control, configuration management and document life-cycle management system is reaching a critical path as Research Genomics translates into Clinical Genomics. We will continue discussing the architectural and storage requirements for using Galaxy, the process management platform of choice for Genomics, in a Clinical environment.
We had a general discussion regarding a "reference platform" for Galaxy and Parallel File Systems. More to come ...
When and Where

We time and location will meet on Tuesday over lunch in the Cantina.
Who is Participating

If you are interested, please add your name below and/or send an email to [Sanjay Joshi](mailto:sanjay DOT joshi AT isilon DOT com) and [Dave Clements](mailto:clements AT galaxyproject DOT org).
Sanjay Joshi, EMC Isilon
Georgois Masklaras, USIT, Univ Oslo, Norway
Maximillian Weiss, Centogene AG, Germany
David Morais, Usherbrooke University, Quebec Canada
Aristos Aristodimou, Linked2Safety Project, University of Cyprus, Cyprus
Sebastian Vosberg, Dept of Environmental Health, Munich, Germany
Kevin Young, Garvan Institute, Sydney Australia
Questions?

Send them to [Sanjay Joshi](mailto:sanjay DOT joshi AT isilon DOT com) and [Sasha Paegle](mailto:Sasha DOT Paegle AT isilon DOT com).