Galactic November News!
Welcome to the November 2015 Galactic News, a summary of what is going on in the Galaxy community.
If you have anything to include in the next News, please send it to Galaxy Outreach.
New Papers
81 new papers referencing, using, extending, and implementing Galaxy were added to the Galaxy CiteULike Group in October. Highlights include:
The new papers were tagged with:
---
Events
GCC2016 Training Topic Vote Ends This Friday
Thanks to everyone who nominated topics for GCC2016 Training. Please take a few minutes to vote on the topics you want to see offered at GCC2016 Training.
The 2016 Galaxy Community Conference (GCC2016) features two full days of training on June 26-27. Each day will have multiple tracks, with each track featuring several sessions throughout the day. GCC2016 will be held at Indiana University in Bloomington, Indiana, United States.
Topic voting closes November 6.
Topics will then be selected and scheduled based on topic interest, and the organizers' ability to confirm instructors for each session. Some very popular sessions may be scheduled more than once. The final schedule will be posted before registration opens (which we are hoping will be the end of November).
IUC Contribution Fest - Metagenomics Tools and Workflows
We are planning a remote hackathon on 30th of November and 1st of December for developers to work mainly on Galaxy metagenomic tools.
The remote nature of this gives people who don't have the opportunity to come to GCC hackathons (which have always been productive and a lot of fun) a chance to participate in a Galaxy hackathon. Having a well defined topic will allow us to accomplish a lot and let people who don't have particular tasks in mind find something to work on very quickly.
We are collecting ideas to work on, but we expect to attract the most participation by simply getting tool developers interested in getting help adding collection support to their existing tools and workflows to show up and participate.
If you are interested in participating in the hackathon but not interested in actual tool development - we will assemble a list of smaller, manageable Python and JavaScript tasks to work on and certainly documentation is a chronically lacking for collections so we could use help there and no actual coding would be required.
We encourage ideas or advice about how to organize this so please let us know. A core group will be available on IRC all day and we will have 4 google hangouts across those days to organize, answer questions, and report progress.
We will do our best to coordinate and make this hackathon a nice and productive experience and we would like to especially focus on working reasonable hours and discourage overnighters.
All forms of contribution are welcome!
See the event home page for more.
Call for GCC2017 Hosts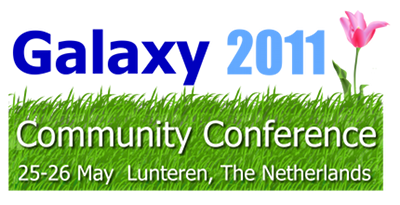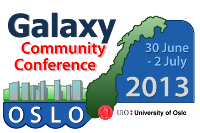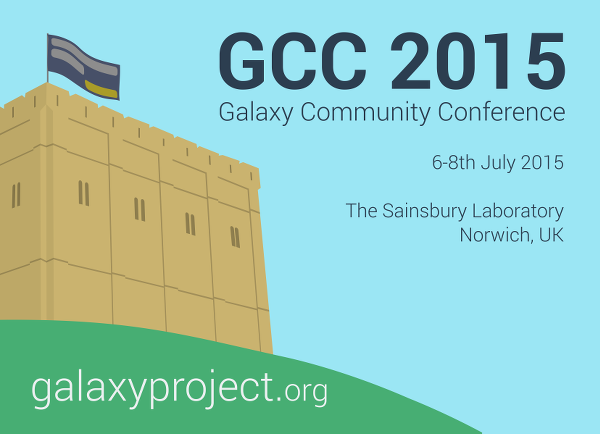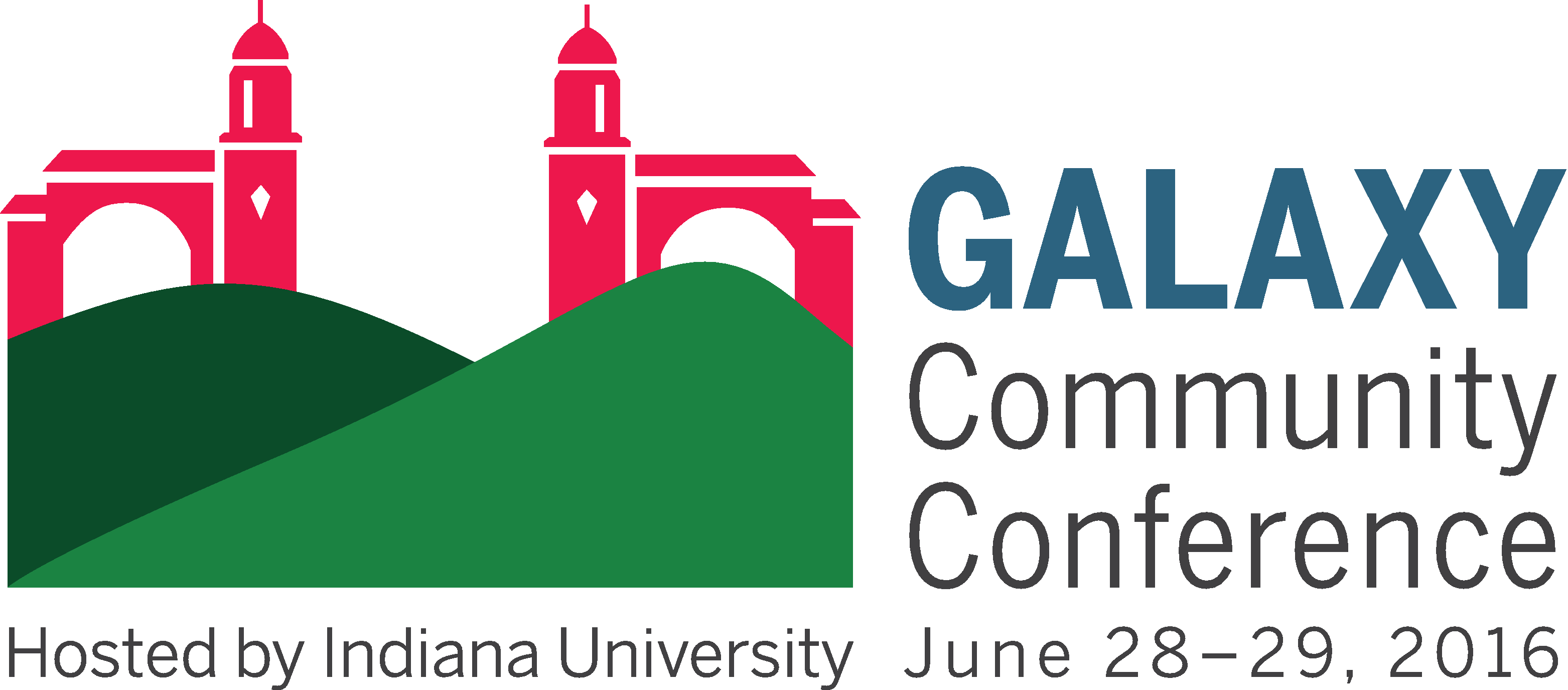 GCC2017 needs a host!
(and a logo)
The call for hosts for GCC2017 closes 30 November. If you are interested, please see this announcement.
October GalaxyAdmins Meetup Video and Slides
Video and slides for the GalaxyAdmins meetup on October 15 are now available. David Kovalic presented on Galaxy at Analome – Outreach, Opportunity and Challenges. This was followed by an active discussion about plans to migrate this wiki to another platform.
GalaxyAdmins is a special interest group for Galaxy community members who are responsible for Galaxy installations. We're skipping the December meetup (wouldn't you rather be on holiday?) so the next meetup will be in February. Hope to see you there.
---
Upcoming Events
There are upcoming events on 3 continents in 4 countries, and a veritable globular cluster of events in France this month. See the Galaxy Events Google Calendar for details on other events of interest to the community.
Date
Topic/Event
Venue/Location
Contact
November 3
Galaxy for the Analysis of Very Large Biomedical Data Workshop
Festival of Genomics California, San Mateo, California, United States
Dan Blankenberg, John Chilton
Common Workflow Language on Galaxy
John Chilton
Single-Cell Sequencing: Analysis & Visualization of Copy Number Variations Workshop
Robert Aboukhalil, Tyler Garvin
November 12
BioTeam & UC Davis Webinar: Introduction to Genomics Data Analysis with Galaxy
Webinar - Open to all
Email
November 15-16
Analyse de données RNA-seq sous l'environnement Galaxy
PRABI, Lyon, France

Email
November 17-18
Analyse de données RNA-seq sous l'environnement Galaxy
PRABI, Lyon, France

Email
November 18
Hackathon Galaxy 2015
Institut Pasteur, Paris, France
Email
November 19
Galaxy Day 2015
November 30 - December 1
IUC Contribution Fest - Metagenomics Tools and Workflows
Online
/src/iuc/index.md, John Chilton
December 3
RNA-Seq Analysis Using Galaxy
University of Newcastle, Newcastle, NSW, Australia
Mark Crowe, Katherine Champ
December 4
Variant Detection Using Galaxy
December
7-11
Galaxy and the Genomics Virtual Lab
BioInfoSummer 2015, University of Sydney, NSW, Australia
2016
January 8
Introduction to Galaxy Workshop
Arizona State University, Tempe, Arizona, United States
Nico Franz, Melissa A. Wilson Sayres, Anton Nekrutenko
January 9-13
TreeGenes: Enabling visualization and analysis in forest tree genomics
Plant and Animal Genome (PAG XXIV), San Diego, California, United States
Emily Grau
Galaxy for SNP and Variant Data Analysis
Dave Clements
January 19
An introduction to clinical bioinformatics
Festival of Genomics London, London, United Kingdom
Ang Davies
February 20-23
(SW4) The Galaxy Platform for Multi-Omic Data Analysis and Informatics
ABRF 2016, Fort Lauderdale, Florida, United States
Pratik Jagtap, Tim Griffin, Dave Clements, Candace Guerrero, Getiria Onsongo
June 25-29
2016 Galaxy Community Conference (GCC2016)
Indiana University, Bloomington, Indiana, United States
Organizers
---
Who's Hiring
The Galaxy is expanding! Please help it grow.
Got a Galaxy-related opening? Send it to outreach@galaxyproject.org and we'll put it in the Galaxy News feed and include it in next month's update.
---
New Public Galaxy Servers
1 new publicly accessible Galaxy servers was added in October, bringing the total dangerously close to 80.
Galaxy@PRABI
RDF2Graph
---
Releases
Planemo 0.15.0 - 0.18.1
Planemo saw a meteor storm (sorry!) of activity in October with 4+ releases.
Planemo is a set of command-line utilities to assist in building tools for the Galaxy project. Planemo 0.18.1 is the most recent release. See the release history.
BioBlend 0.7.0
BioBlend version 0.7.0 was released few days ago. BioBlend is a python library for interacting with CloudMan and the Galaxy API. CloudMan offers an easy way to get a personal and completely functional instance of Galaxy in the cloud in just a few minutes, without any manual configuration.) From the release CHANGELOG.
Other Releases
July 2015 Galaxy Release (v 15.07) Galaxy Release v 15.07 includes enhancements to Interactive Environments and the Workflow Editor, an update of the Policies for Committers and Pull Requests and much more.


Mid 2015 Galaxy CloudMan Release
Security Advisories
Three security vulnerabilities were announced and patched in August. The Galaxy Committers have released a number of fixes which have been rolled in to affected versions of Galaxy dating back to the 14.10 release.
Pulsar Pulsar 0.5.0 was released in May. Pulsar is a Python server application that allows a Galaxy server to run jobs on remote systems (including Windows) without requiring a shared mounted file systems. Unlike traditional Galaxy job runners - input files, scripts, and config files may be transferred to the remote system, the job is executed, and the results are transferred back to the Galaxy server - eliminating the need for a shared file system.
CloudMan The most recent edition of CloudMan was released in August.
blend4j v0.1.2 blend4j v0.1.2 was released in December 2014. blend4j is a JVM partial reimplemenation of the Python library bioblend for interacting with Galaxy, CloudMan, and BioCloudCentral.
---
Galaxy Community Hubs
2 new Galaxy Training Network members were added last month:
And 2 new Community Log Board entries were added as well. Both are about wrapping Tools for Galaxy:
---
ToolShed Contributions
Ran out of time to compile these. Look for a double batch in December.
---
Other News
Galaxy Codebase Reaches 20 000 Commits

In September Galaxy turned 10 years old by one important measure. Another milestone was reached in October when the Galaxy codebase surpassed of 20000 commits. And appropriately (and if I can count), the 20,000th was a pull request commit from community member Helena Rasche originally submitted by team member Nate Coraor.
Our thanks go to the community and the team alike.